How a Party Designed with Love, from Jacquelyn to her Mother, shows her influences in interior design.
Some people might say that I'm a little late in posting this, but I feel that it's never too late to show the world how much you love your Mom! I made the conscious decision this year to put my phone down and take a break from social media during Mother's Day weekend. Hence why I'm just now posting about our big celebration! Okay…and maybe because I had to wait to get the photos back from my photographer! (YES, I had my photographer for Mother's Day weekend LOL!) P.S. Check out my photographer's website, https://www.bachimagery.com . Bak is awesome! Mother's Day falls on the same weekend as my mom's birthday every year, so it's always a double whammy! Naturally, I like to make the day extra special for my mama to show her my appreciation :-) But this year I wanted to publically honor the wonderful woman who raised me and always encouraged me to pursue my dreams. I took a leap of faith two years ago starting my business, and I am completely humbled by the amount of support and referrals I have received thus far. In the spirit of Mother's Day, I wanted to personally share the influence my mother has had in me choosing a career path in design.
I remember it like it was yesterday when my parent's were building our new construction home. My mom would pick my brother and I up after school and we'd frequently go to the jobsite and architect's office. From the get-go, I was enamored with the ground up construction process even though I was only 9 years old!
As one should, after our house was built, my mom hired an interior decorator to furnish and accessorize. It took years to finish our home, but everything was to a T once completed! My parents started hosting elaborate parties for our friends and family. Since then, the party decor has always been so thoughtfully put together. My mom always gives attention to color coordination, proportion, texture, lighting, and that overall WOW factor! I guess you could say I get it from my mama! (Too corny?) As a young girl, it was always inspiring to watch her make coffee and create decorations all night and into the wee hours of the morning. I took an interest in it and started helping her decorate and still do to this day! Well, except these days it's more like I'm leading, not helping. LOL. Halloween, Birthdays, Christmas, or any other time that you can think of a reason to have decorations, we are on it!
When I was younger she always joked with me that I needed more practice making floral arrangements and wrapping gifts. We would get competitive with our wrapping and we would challenge each other to see who could wrap the prettier gift. Some nights we'd even stay up til sunrise until everything was perfectly set for whatever the occasion might be. It was natural to stay up late though because I'm pretty sure I was born as a night owl. (Side note: Maybe I should do a blog about night owls and how that relates to being an interior designer/business owner?) Anyway, my mom has always gone to the moon and back to create the most memorable experiences possible for our family. I really treasure that and have always wanted to reciprocate that feeling for my mom every year on Mother's Day. As a young girl, I would wake up before sunrise, tiptoe downstairs, and quietly decorate our den for her as a surprise. The smile that it brought to her face was so fulfilling to me!
I recently moved into a new lofty space in the Uptown New Orleans area. As a result, I unfortunately haven't been seeing my mom as often lately :-( And I've been missing her big smile! So, as the month of May was fast approaching, I thought to myself why not throw a party for My Mom's Birthday/Mother's Day at my place this year!? I've helped throw parties before, but I've never actually thrown my own party! For the first time, this would be a way for me to give back to my mom in the way that she's given to me all these years. I was so excited at the thought that I immediately grabbed my iPhone and began to design the invitation.
Coincidentally, the official Magazine Street Champagne Shopping Stroll was happening on the same day that I wanted to throw the surprise party. BAM! It then occurred to me…The party would be called "Jeannine's Surprise Champagne Stroll" and the group text would be called "Jeannine's Champagne Strollers!" People started RSVPing yes and before I knew it, it was like a rose gold glitter bomb went off in my house! Everything was color coordinated, from the invitations and decorations to the ice in our drinks and the shoes on our feet. I'll have to admit…I may have gone a little over the top! I spent several nights rocking out to artsy EDM music making floral ice cubes, glittery champagne bottles and more! I was so amped up designing this party for my mom that I wondered at one point if I should go into party planning? I guess that thought will be fit for another blog post. Anyway…
I told my mom to meet me at my place, bring an appetite, and wear comfortable shoes. Remember, she had no idea what we would be doing or that her friends were even there! (Was my mom crazy for trusting me to plan a day for her? You never know what I might have up my sleeve!) But on a serious note, I'm happy to report that she was ecstatic to learn what I had planned! After a few appetizers and bubbles I sat everyone down for a slideshow video that I made for her as a gift. The video took the ladies from tears of joy to belly aches of laughter. It started off with behind the scenes footage of me preparing for the party and then it eventually lead into jaw dropping memories of her and her friends.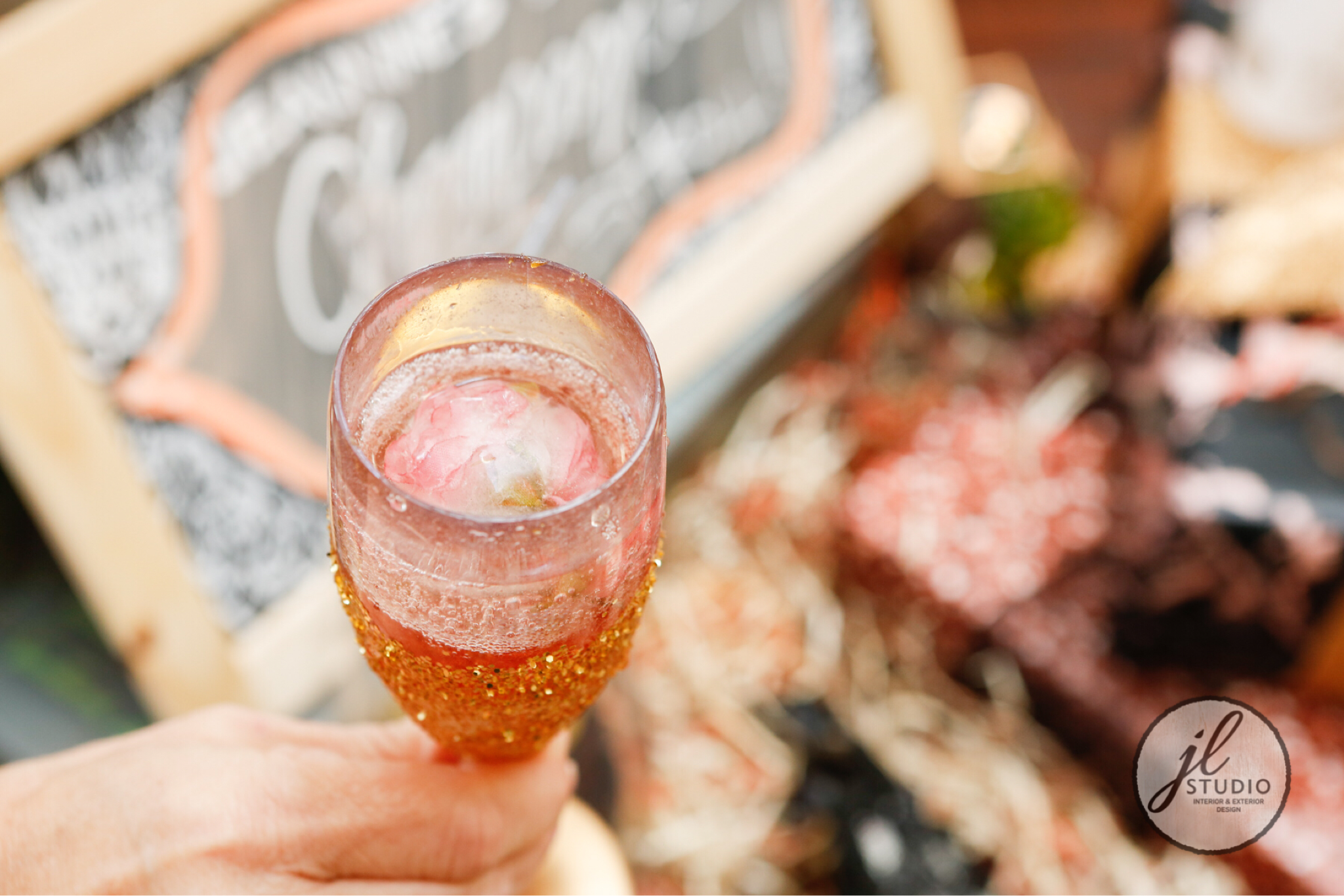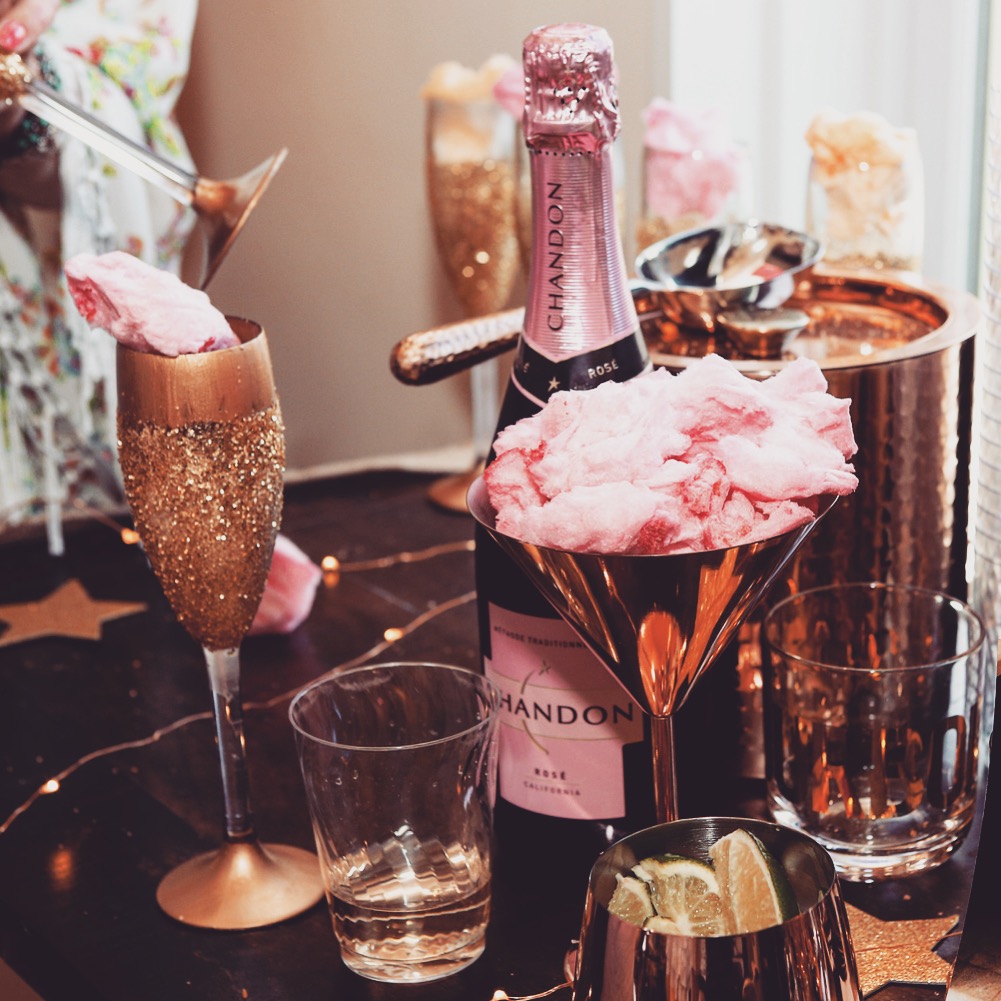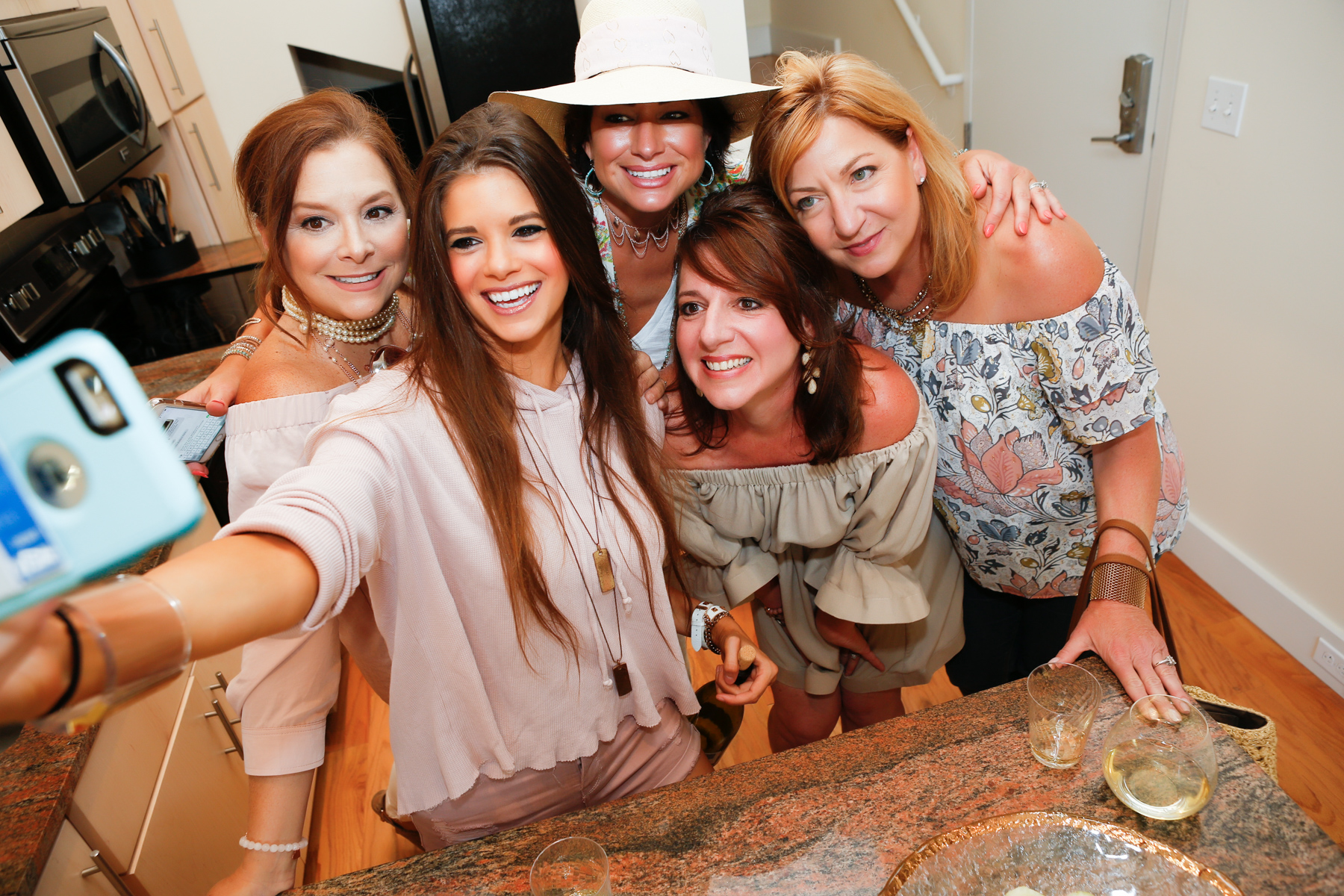 After everyone settled down, it was time for another surprise!I've recently had the pleasure of renovating my parents' home that I grew up in. Sometimes it may be a little chaotic working with family, but overall it's been the most fulfilling opportunity for me to explore my creativity and challenge my skill set. Since we finished the kitchen redesign about a year ago, my mom has been searching for the perfect painting to go over their buffet table. After no luck in finding one, I told her I would paint a piece for her as a birthday present. What was I thinking offering to do that on top of all my design projects!? I guess I was just thinking how much it would mean to her. Her eyes lit up and she asked me if I would paint her an oyster so I did! I was definitely holding my breath for a few days as I developed the painting, but I did thoroughly enjoy working on it as I experimented with a couple new mediums like gold leaf and crackling paste! Between the surprise party and the surprise painting, my nerves were going crazy as I unveiled the painting to her in front of her friends! But what a relief! She loved it! It compliments the buffet table nicely and really ties the space together. My oyster was more than what she had hoped for!
After the big reveal, it was time to sip and shop…in style of course! Everyone dressed in the rose gold/white color scheme as requested and we paraded down Magazine Street with oversized balloons, champagne confetti bottles, a Bluetooth speaker and big smiling faces! I realize that it was perhaps a tad obnoxious having a walking balloon party, but hey…it IS my job to get people a little out of their comfort zones, right? You only live once…SO MAKE MEMORIES!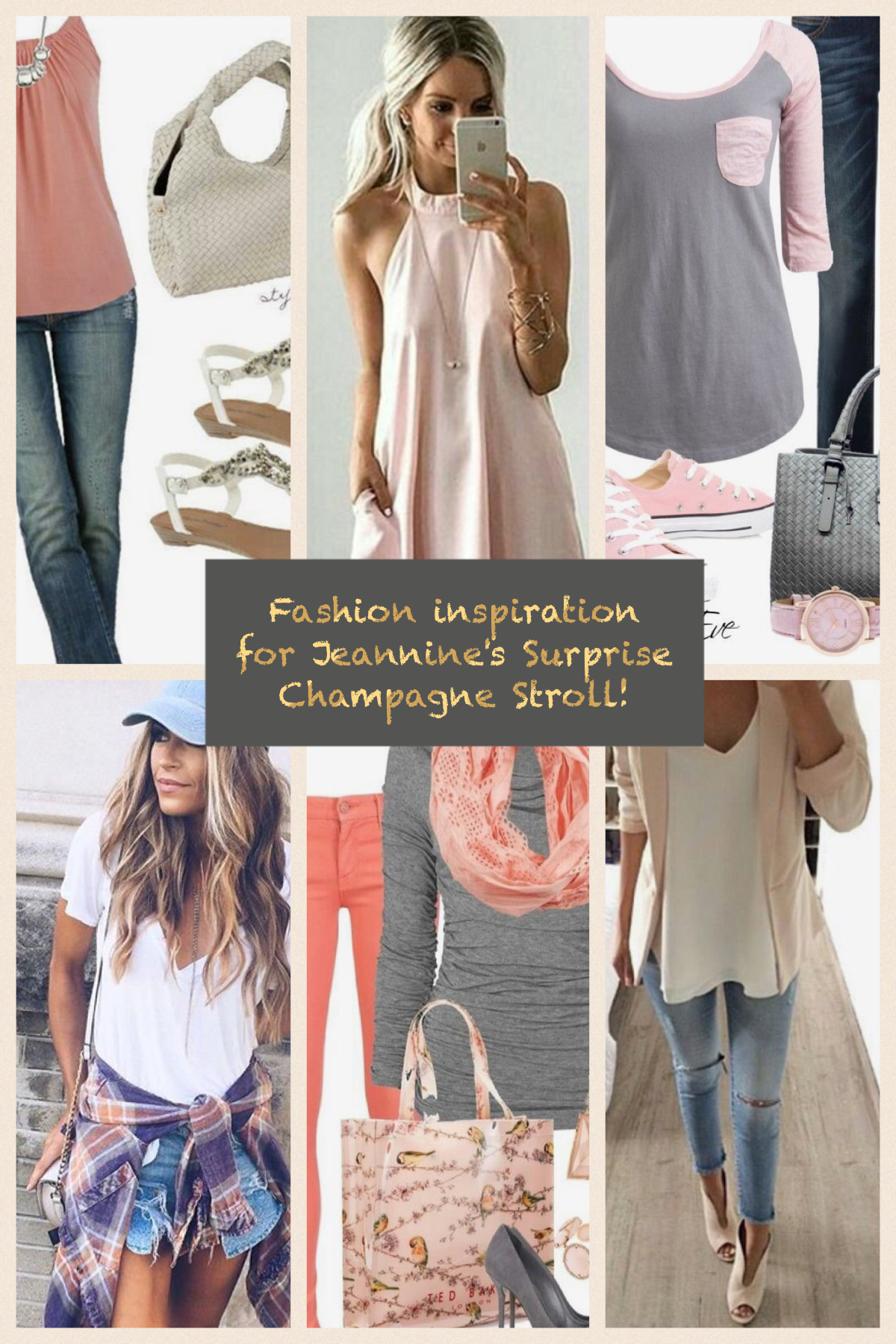 In addition to the balloons, I bought my mom and myself rose gold glitter converse shoes to match and handed them to her to open as another gift mid stroll while on Magazine Street. (I like to keep the surprises coming!) She immediately thought she may not be cool enough to "rock them," but I told her, "Be quiet and just put them on! Of course you are!" So she switched shoes right then and there on the sidewalk. Now it was really time to hit the stores!
After a lovely Uptown New Orleans evening with the ladies, it was time to call it a night!
The next day, Mother's Day, would be spent doing things as a family…without instagram and snapchat! We stuffed our faces with delicious Southern food at the ever so charming Red Dog Diner, took artsy pics on Magazine Street and enjoyed a nature walk through the gorgeous Audubon Park. I can't even tell you how incredible it was to detach from work and just be with my family!
After bumming around uptown for the better half of the day, we stopped to visit my 98 year old grandmother to wish her a Happy Mother's Day. It's always so uplifting when the three generations can be together! I feel so blessed to have been able to spend yet another Mother's Day with my mom and my Granny.
As time goes by, we begin to learn what really matters. Years don't matter. Distance doesn't matter. Family matters. We share a bond…of memories, of laughter, and of love. And I am so happy that I was able to spend an entire weekend celebrating the woman who has dedicated her life to my brother and I. My mom is selfless yet strong – and the most beautiful woman I know. She matters to me and always will.
Mom, I love you dearly and I will never be able to begin to describe how much I appreciate the influence you've had on my design career and me. Thank you for always being the best mom and best friend you can be. Cheers to a successful 2017 Birthday and Mother's Day!