Hey there! Thank you for stopping by to check out my blog! If we haven't met yet, what's up!? I'm Jacquelyn Lindsey, the owner of JL Studio Designs and I specialize in designing custom, high-end residential homes from the ground up. It's been a minute since I've blogged but it feels great to be back and I'm super excited to share one of my latest new construction projects with you! The #DufrenePalace Project!
This lovely, French style home was recently featured in the New Orleans Parade of Homes Tour and it was a HUGE hit! If you missed the tour, that's unfortunate! BUT! . . . no sweat! We made a video tour for you! This luxury home is the perfect combination of traditional elegance and modern edge. So, watch this captivating, inspirational video and hear the homeowners insight on why it was so valuable that they hired JL Studio Designs before breaking ground on their new construction dream home!
One of my favorite aspects of this project is that my clients, Jason and Shannon Dufrene, brought in JL Studio from the very beginning. I worked with them before the construction even started. The Dufrenes hired me to review and revise the Architect's drawings before the slab was poured in order to make sure their home would have the best flow possible. I rearranged their floor plans and lighting layouts, designed the ceiling styles and created a scaled furniture plan.
Once we had the layout and the massing of the home perfected, we were able to jump into the fine details, ahead of the builder.
It's very common that I get a call from new homeowners who want me to come in and do the design after the framing is done, or even worse...after they've sheet rocked! What people don't realize is that that's honestly terrible timing! The earlier you can hire your designer, the better off you'll be in the long run.
On the Dufrene project, I attended weekly job-site meetings from the get-go with the homeowner and Creative Builders in order to best combine her French-chic style and his masculine-rustic vision.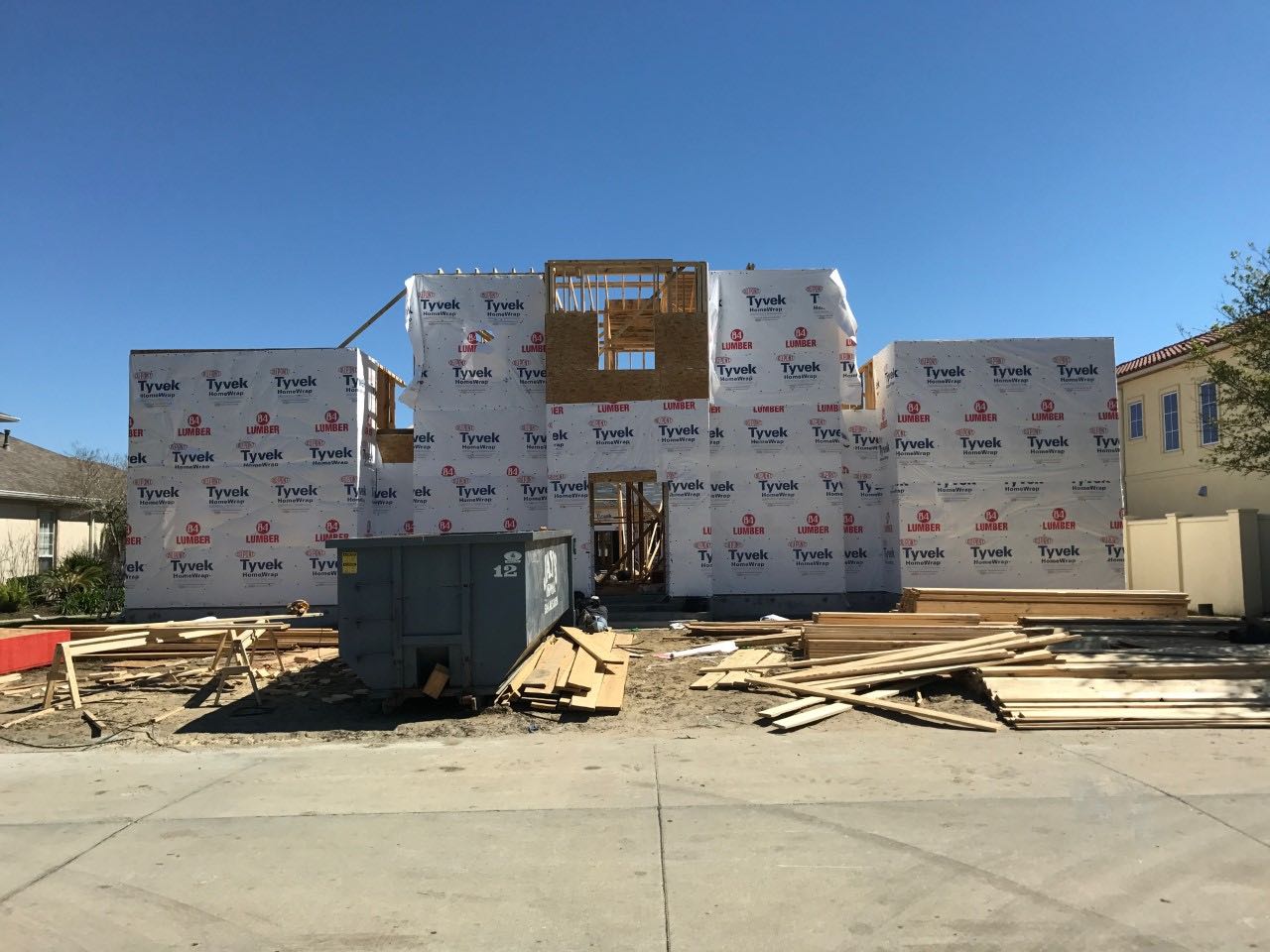 As a designer it is my number one goal to listen to my clients and create a home that best reflects their lifestyle and personality. In this project, Shannon expressed in the very beginning that she really wanted a light feeling, elegant home, while Jason pushed for a more masculine, rustic style that he felt strongly about. It was a delicate process but as you walk through the home now, you can really see how we meshed both of their styles together. It's the high ceilings, polished stones, neutral walls, decorative moldings and enlarged windows that give this home a classic, light and airy feeling. But it's the handsome dark floors, smoke gray cabinets and textured brick features in the home that give it its bold, warm character.
LET'S TAKE THE TOUR OF THIS BEAUTY, SHALL WE!?
FIRST UP: THE ELEGANT FOYER!
I believe that your foyer should set the tone for the rest of your house. Typically, I like to start with the floors and work my way up in a design, but in this house I actually started with the walls.
If you're unfamiliar with the construction process, here's a tip: As soon framing begins, the electricians will need to know the dimensions for where to rough in the boxes for all electrical fixtures. TRANSLATION: You technically need to have your wall sconces picked out before the walls are closed! (The height at which a sconce should be mounted is usually dictated by how tall the sconce is. So, if you don't know what light fixture you'll be using, then it's pretty much impossible to wire in the correct location.)
In this project we selected light fixtures before the framing was complete and then I designed the wall panels and electrical locations around the sconce and statement mirror dimensions.
I wanted the foyer to be very formal but light feeling. The decorative panel designs in the smooth white finish combined with the Italian sconces and marble staircase definitely give the entry a sense of traditional glamour. But the dark hardwood floors and iron stair railing give the foyer a handsome, masculine balance. And the gorgeous faux painted accent wall...Well, that's just me working with my decorative artist to add my usual magical pop!
NEXT UP: THE CHARMING KITCHEN!
When I first reviewed the Architect's plans, there were originally two kitchen islands. Sometimes, that's a fine idea, but in this case, it was too chaotic for the space. I replaced the two smaller islands with one larger island. Doing this gave the kitchen a much cleaner look and made it more functional. One of my favorite things in this kitchen is the twin refrigerator and freezer towers wrapped in cabinetry at each end. This symmetrical design gives visual comfort as soon as you walk in. :-)
There's definitely something to be said for "feeling the space." Sometimes things may look great on paper, but can feel totally different once installed. With the Dufrenes, we went the extra mile to make sure that the light fixtures we selected were perfect for the space ahead of time.
Shannon originally came to me wanting an all white kitchen, but I assured her throughout the process that we could add a few masculine elements for Jason and the kitchen would still feel very light and airy. The light walls, gold hardware, polished stone and dramatic hood give the space her feminine vibe while the gray cabinets, wood floors and reclaimed beams tie in his rustic side. WIN! :-)
NEXT UP: THE HEAVENLY WINE CELLAR!
I honestly don't even think I need to say much about the wine cellar except that if you don't drink wine, I'm pretty confident this wine cellar could turn you into a WINO!
I know the wine cellar may look effortless, but a lot of thought and detail went into making it so special. The barrel shape ceiling, the brick selection and pattern, the eclectic chandelier, custom-made door hardware, multiple stain finishes and many more elements really make this wine cellar so inviting!
AND WHAT BETTER WAY TO ENJOY THAT GLASS OF WINE THEN KICKING BACK AND RELAXING IN A BEAUTIFUL HOME THEATRE?!
The detailed panel layout, moody lighting design, proper audio/video placement and monochromatic color palette make this room the perfect space to chill out and binge watch the best movies!
Oh...and let's not forget my client's super cute snuggle buddy, their little Chihuahua named Chloe :-)
AND YES, IT KEEPS GETTING BETTER! AFTER A NIGHT OF MARATHON MOVIE WATCHING, MY CLIENTS WILL GET TO WAKE UP AND REFRESH IN THEIR NEW STUNNING MASTER BATHROOM!
For the master bath, Shannon wanted it to feel light and airy, like a spa, but also dramatic and elegant to compliment the rest of the house. To tie everything in, I continued the panel theme into the master bath and complimented that with the use of custom mirrors, crystal light fixtures, various marbles and a water-jet cut tub wall feature. (Try saying that ten times fast!)
I think it's safe to say Shannon and Jason will begin each morning feeling refreshed and inspired to take on the day!
AND NOW, LAST BUT NOT LEAST...MY FAVORITE ROOM IN THE HOUSE, THE EDGY BUT ELEGANT POWDER BATH!
I really enjoyed designing this powder bathroom because the Dufrenes let me run with my vision and introduce elements that were way out of their natural comfort zone. (P.S. I LOVE when clients trust me to do that!!) If anyone knows anything about working with me, they know I like to use bold, unexpected light fixtures. For this bathroom I chose a contemporary, brass chandelier with spiky glass spears while I incorporated traditional European lighting throughout the rest of the house. The contrast of this unexpected chandelier with the traditional paneling and gold leaf ceiling really gives the bathroom that WOW factor! The Dufrenes weren't expecting it but now they say it's their favorite room in the house and their only wish is that it were big enough for us to all sit in there and have cocktails. :-)
It's crucial to know that in design, beauty takes time, thought and attention to detail. In this bathroom JL Studio designed a panel layout on the walls in order to camouflage the door that leads to the backyard so the powder bath could have a more decorative, dramatic feel. JL Studio also selected all the finishes and fixtures, created drawings for tile patterns, worked with decorative artists on specialty finishes and coordinated paint colors with the stone selections to make sure everything would tie together.
The end result was edgy, elegant and an absolute show stopper in the New Orleans Parade of Homes tour.
Cheers to Shannon, Jason and Chloe on finally getting to move into their new custom dream home this week!!
I can't say enough about my experience designing this home from the ground up. It's surreal to me that it's over now but it feels so good too! I couldn't be happier for my clients getting to move into this beautiful new luxury home! I believe it takes a solid designer to create a thoughtful dream house but it also takes a good, passionate client who really cares about the end product. Working with the Dufrenes was an experience I will treasure forever. They had a strong vision and they were determined. They were patient, open minded and trusting. Building is never a smooth road, but they embraced the process and stayed the course. I can't wait for them to start their new chapter in this home and I'm even more thrilled to now call them friends!